Stone Roses fan Christopher Brahney's funeral takes place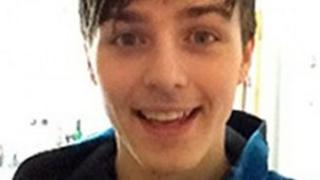 The funeral of Christopher Brahney, whose body was found in a canal after he went missing from a Stone Roses concert in Manchester, has taken place.
The 22-year-old's body was found in the Manchester Ship Canal at Salford Quays, 10 days after he disappeared following the band's gig at Heaton Park.
Family and friends attended the funeral at Sale's St Anne's Church in Trafford.
The service included Blackbird by The Beatles, which a family spokesman said Mr Brahney liked to play on the guitar.
Coldplay's In My Place and Bob Marley's Redemption Song were also played, while the hymns Make Me A Channel Of Your Peace and Lord Of All Hopefulness were sung.
Mr Brahney's mother Jane led tributes at the service, where four of his friends also made speeches and his father Stuart read a poem.
The 22-year-old's body was found on 9 July, after hundreds of Stone Roses fans had helped in a search for him following the band's gig on 29 June.
The cause of his death remains unknown after a post-mortem examination proved inconclusive.