Michael Thorpe jailed for Richard Jacob death burglary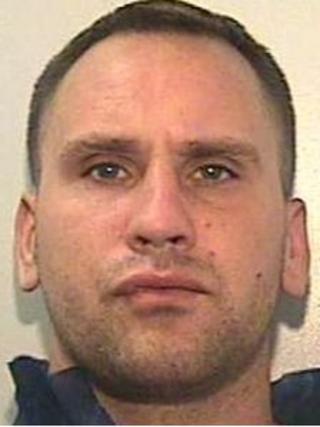 A burglar whose accomplice was stabbed to death by a homeowner during a raid in Greater Manchester has been jailed.
Michael Thorpe, 34, of Outwood Road, Stockport, pleaded guilty to aggravated burglary at Manchester's Minshull Street Crown Court.
The court heard his accomplice Raymond Jacob had died in a "knife fight" with home owner Vincent Cooke, whose house the pair had tricked their way into.
Thorpe was sentenced to 10 years in prison.
The pair went to Mr Cooke's home in Bramhall, Stockport on 17 September 2011 and, posing as gas workers, talked their way inside.
The court was told that Mr Cooke had been alone at the time, but when his wife and 12-year-old son returned home, "panic and confusion" broke out.
Mr Cooke said he picked up a kitchen knife to defend himself from Jacob as he felt he was "fighting for my life".
"If I did not stab him first, he would stab me," he said.
Mr Cooke inflicted eight wounds on Jacob, who died from blood loss. He was arrested on suspicion of murder before the Crown Prosecution Service made the decision to take no action against him.
Senior Investigating Officer Andy Tattersall said Thorpe had been "the muscle for the burglary".
"While he could in no way have envisaged what would happen, he nonetheless went in the full knowledge that he and Raymond Jacob would commit a criminal act at the home of an innocent man and his family," he said.
"The fact that Thorpe was not armed that night and did not take part in the planning of the burglary is of little significance when you examine the tragic and unnecessary events that unfolded.
"One man lost his life, another, an innocent home owner lives with the knowledge that he took it, and a third will now spend several years behind bars.
"This incident ended one life and destroyed two others."