Why Manchester is becoming a magnet for movie-makers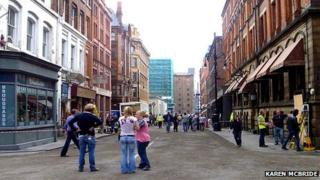 Elaine O'Brien sometimes feels like her house is in a fairy story where the toys come to life.
The six bedroom detached house she shares with her husband in one of Manchester's desirable suburbs is a regular land of make-believe for film, TV and advertising companies who use it as a location.
"I think it is the most lovely experience, the people from the film companies have been adorable," Ms O'Brien said.
"The filming experience is just a breath of fresh air as its so interesting and exciting and just great meeting such a mix of people."
And it is an experience many are sharing in Greater Manchester as the latest figures from Creative England, which bids to bring film makers to the region, have revealed.
The last financial year showed that the agency had 1,461 inquiries about filming in Greater Manchester, compared to 987 in 2007.
Ms O'Brien's introduction to the movie business began in 2007 when the couple moved into their home and received a leaflet through their door asking if they would be willing for their house to be used as a location.
It has opened up a fascinating world, according to Ms O'Brien, with the house becoming a location for diverse productions like Sky TV's comedy Mount Pleasant, a health drink commercial with Sir Bobby Charlton and a dark thriller.
Her home is typical of the large Victorian or Edwardian houses found in south Manchester which film companies find particularly attractive, said Ellie Hodgson, of location-finder company UK Locations.
"You need big houses to accommodate a film crew of up to 40 people and there are a lot of ideal houses in places like Didsbury," she said.
Ms Hodgson said the Leeds-based company, which fixes locations all over the UK, has found that about two thirds of its business is now in Greater Manchester which has a wide variety of locations from cobbled streets to trendy town houses in a relatively compact area.
Her experience is confirmed by film agency Creative England.
Bobby Cochrane, a production manager based at the agency's Salford office, said: "There has been a steady rise in the graph."
He said last year also saw more than 1,400 filming days in the city, another record.
Mr Cochrane said the catalyst had been developments such as MediaCity in Salford (headquarters of BBC North) and the Sharp Project in Newton Heath where a former Sharp Electronics plant is now home to a burgeoning digital media and production scene.
The film agency currently has details of 2,000 locations ranging from stately homes and town halls to local pubs and people's living rooms.
Manchester has long been a magnet for movie-making from the days of George Formby to the 1979 wartime romance Yanks, starring Richard Gere, to the filming of Captain America in 2010, where a section of the city's Northern Quarter became a studio back lot.
Mr Cochrane said the road closures needed for Captain America were evidence that Manchester City Council had made it a film-friendly city.
"Something like that would be extremely difficult to do in London, perhaps not impossible, but the authorities in Manchester were able to make it happen," he said.