Family's diverse reaction to sun exposure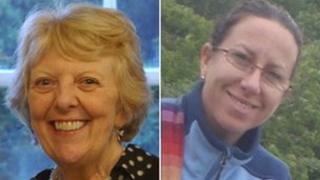 In late 2011, after taking a blood test, Patricia Ireland found out she was vitamin D deficient.
The same year, on the other side of the world in Australia, her daughter-in-law had an emergency operation to have a melanoma removed from her back.
Melanoma is the most dangerous form of skin cancer as it can spread from the skin to other parts of the body, making it harder to treat.
As it was spotted relatively early, Ronita Barratt, 38, has since been given the all clear.
Mrs Ireland, 66, from Ormskirk, Lancashire, said: "They are two very different climates, Lancashire and Southern Australia, our risk here is we don't always get enough direct sunlight."
A two-year trial investigating the health benefits and risks of spending time in the sun has been launched in Salford.
It aims to help clarify the balance between getting enough of the 'sunshine vitamin', and how much sun is too much.
Vitamin D helps the body to process calcium from food effectively, with low levels often resulting in serious problems with bones.
'Optimal balance'
Seventy-five volunteers taking part in the Cancer Research UK-funded research at Salford Royal Hospital will be exposed to short periods of controlled ultra violet light.
The group, aged between 18-45 and with a range of skin colours, will then have blood and urine samples examined for chemicals indicating vitamin D levels and DNA damage.
Lesley Rhodes, from the University of Manchester, who is leading the study, said: "What we are aiming to do is to attempt to find the optimal balance, and that is going to differ between skin types and and skin colours.
"The information out there at the moment is only for fair-skinned people, although there isn't enough information on that either.
"There's no doubt that too much sun can seriously increase skin cancer risk, but we also know there are also important benefits to going out in the sun, such as making enough vitamin D."
'Cloudy place'
Mrs Ireland, who suffers from osteoporosis, has suffered 24 fractures in the past 10 years due to her "weak bones".
Calcium is key to help strengthen bones, but Mrs Ireland had to also increase her vitamin D intake to help her body process it.
She said: "I don't really know what caused it, perhaps I am more susceptible to this deficiency.
"Lancashire can be quite a cloudy place, most of the year we are under cloud cover, maybe I hadn't been getting enough light exposure."
She added: "I now eat fish at least three times a week to increase vitamin levels and I expose my hands, arms and face to sunlight for at least 15 minutes a day."
According to the National Osteoporosis Society, we only get 10% of the vitamin D we need from food, such as oily fish and eggs.
Our bodies can still produce vitamin D on cloudy summer days, but it takes a little longer.
Due to Australia's sunny climate, Mrs Ireland's daughter-in-law has been exposed to long hours of the sun's rays since an early age.
Mrs Ireland said: "Ronita's much darker skinned than me, but she lived on a farm in Southern Tasmania as a young girl and was running about in the sun a lot.
"It was an emergency when the mole was initially discovered, she had surgery straight away and now has checks every month.
"If they can work out a balance of what is a healthy amount of exposure, it will be safer for everyone."