Memorial marks Peterloo Massacre in Manchester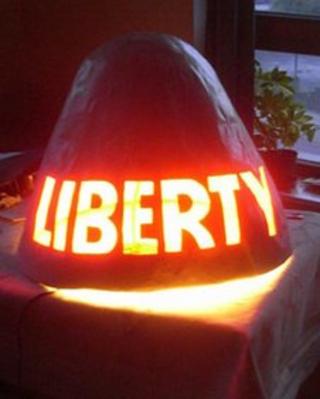 Campaigners are marking a bloody chapter in Manchester's history with a temporary memorial in the city centre.
Up to 15 people were killed and 700 injured during the Peterloo Massacre, when militia attacked pro-democracy campaigners at St Peter's Fields.
The memorial is based on a key symbol of the protest - the liberty cap, a soft conical hat signifying freedom.
Mill workers were targeted as they marched on on 16 August 1819, to demand parliamentary reform.
The Peterloo Memorial Campaign members have erected a 15ft (4.5m) illuminated sculpture in the plaza in front of Manchester Central Convention Centre, before holding a candlelit vigil until midnight, marking the date of the massacre itself on 16 August.
It will make a second appearance at the main annual commemorative rally on Sunday at St Peters Square, the location of the massacre, where it will be left on display.
Paul Fitzgerald, chair of the campaign, said campaigners were disappointed Manchester City Council had been slow to erect a permanent memorial.
'Public involvement'
He said: "In August 2009 we were assured in writing the monument would be chosen via an open international design competition, but this has now been stripped down to just three councillors controlling the entire decision.
"We're putting our own memorial in place as a passionate reminder that this decision must be as democratic as possible."
However, Councillor Pat Karney, city centre spokesman for Manchester City Council, said: "We will work with the memorial group and anyone else in the city who shares our interest in creating a fitting and high quality memorial.
"We will search the country for an appropriate artist who has a proven track record of working with, and consulting, a wide range of people and organisations to create a memorial of which the people of Manchester can be proud.
"Neither the form nor the location of the memorial are being prescribed by the council - only that it must be within the area where the events of 16 August 1819 took place - and there will be plenty of room for public involvement".