'Tornado' causes damage to Bolton farm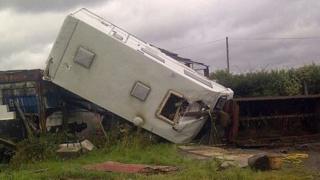 A farm and riding school in Greater Manchester was damaged when it was hit by a suspected tornado.
The storm struck at about 16:00 BST on Wednesday, lifting roofs from buildings and blowing over heavy machinery at the farm in Darcy Lever, Bolton.
Farm owner Michael Lomax said it had been "a howling gale" which had caused farm items to "fly in all directions".
The strong winds also caused damage to trees and property elsewhere in the town.
'Squall line'
Mr Lomax said no people or animals on his farm had been hurt in the storm.
"It was horrendous, there were lots of people in the yard who had just come out of the all-weather [area] so we were very lucky that no-one had been injured," he said.
"I've never seen anything like it, it just came out of nowhere.
"It was a mini tornado, it went as black as night and then a howling gale caused things to fly in all directions.
"It moved a caravan 20 yards and a heavy muck spreader with it, which left them all mixed up into a great pile."
He said there had been "quite a lot" of damage to stable and barn roofs and a wall had been knocked down.
He added there had also been "a bit of panic in the fields and a few fences broken as the horses galloped away".
A spokeswoman for the Met Office said there had been no reports of tornadoes in Bolton, but that the area had been hit by a "squall line" on Wednesday afternoon.
"It can create similar conditions to a tornado, as intense rain combines with extremely strong gusts of wind," she said.