Keith Bennett family 'approve' Ian Brady documentary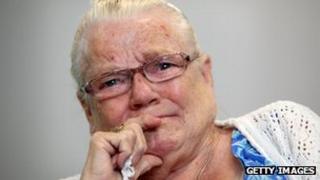 A documentary about Moors Murderer Ian Brady will be shown despite the death of the mother of one of his victims.
Keith Bennett's mother Winnie Johnson died on Friday having fought to get Brady to reveal her son's burial place.
Keith's remains have never been found and claims made in the show have led to a police investigation into whether Brady had revealed their location.
Channel 4 said after consulting with Mrs Johnson's family, the show would air "with their approval".
Greater Manchester Police are investigating whether Brady, 74, gave details about Keith's grave to his mental health advocate Jackie Powell, from Carmarthenshire, South Wales.
A police spokesman said without new evidence, no further searches of Saddleworth Moor would be undertaken.
Keith, who was murdered in 1964, remains the only one of Brady's victims not to be found during searches of the moor, near Manchester.
Brady and his lover Myra Hindley murdered five children between 1963 and 1965.
A Channel 4 spokesman said the documentary would be "airing as planned following consultation with Winnie Johnson's family and with their approval".
"There will be tweaks to reflect Winnie's sad passing but otherwise the film will remain unchanged," he said.
The brother of one of Brady's other victims said Mrs Johnson's campaign to find the body must "carry on and on".
Terry Kilbride, whose elder brother John was murdered by Brady in 1963, said it was now "up to the families to get something done".
'A mind game'
He said that Mrs Johnson had been "the last one, the last remaining mother, so it's up to the sons and the daughters and it will carry on and on and on until Keith is found".
"I will and I know Alan Bennett [Keith's brother] will - his mum fought 46 years for this and never got a result," he said.
He added that he could not "understand why the police don't do another search", but said he thought the claims Brady had revealed details about 12-year-old Keith's grave would come to nothing.
"It's a ploy, a mind game. It's just a game that Brady plays," he said.
"If Brady does open his mouth, he will know exactly where Keith is - even though that landscape has moved, he'll have a good idea.
"My opinion is that he is not going to tell, he'll take it to the grave, but it's up to the families to get something done for Keith whether he tells us or he doesn't."
Keith was snatched by Brady as he made his way to his grandmother's house.