David Short murder is Manchester police's 'biggest priority'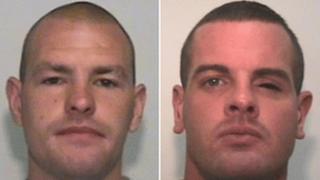 The investigation into the murder of a man killed in a gun and grenade attack is Greater Manchester Police's "biggest priority", the force has said.
Several hundred police officers are involved in the hunt for Dale Cregan and Anthony Wilkinson who are wanted in connection with David Short's death.
The 46-year-old's body was found in Folkestone Road East, Clayton, after a blast was heard on 10 August.
A number of forces around the country have sent officers to provide support.
A police spokesman said the help from other forces allowed the operation to continue around-the-clock without impacting on normal police business.
Yugoslavian grenades
An "unprecedented" number of officers are said to be involved in the hunt for Mr Cregan, 29, from Droylsden, and Mr Wilkinson, 33, from Beswick.
A Crimestoppers reward of up to £25,000 has been offered to anyone with information which leads to their arrests.
A post-mortem examination concluded Mr Short died from multiple gunshot wounds and an explosion injury.
Ten minutes after the attack in Clayton, gunshots were heard and a grenade attack took place two miles away at a house in Luke Road, Droylsden.
Police said grenades used in the attack which killed Mr Short were military weapons from the former Yugoslavia.
Mr Cregan is also wanted in connection with the death of Mr Short's son Mark, who was killed in a shooting at the Cotton Tree pub, in Droylsden, on 25 May.
'Police armed patrols'
Assistant Chief Constable Steve Heywood said: "Due to the severity of the attacks which we witnessed on 10 August, the subsequent policing operation which has ensued over the past 12 days continues to be our biggest priority.
"We have an unprecedented amount of officers dedicated to this case, ranging from detectives to firearms officers to CCTV officers."
"The operation will continue to work at this level of intensity for the foreseeable future, until we have located the two men we want to speak to in connection with the two attacks and the death of David Short."
Three men arrested on suspicion of murder remain on police bail pending further inquiries.
Police said day and night patrols involving armed officers are set to continue in Clayton and Droylsden.
Mark Short, 23, died when a masked gunman opened fire at the pub on Market Street.
Three people have been charged with his murder and are due to appear at Manchester Crown Court at a later date.