Manchester homes flooded due to heavy rain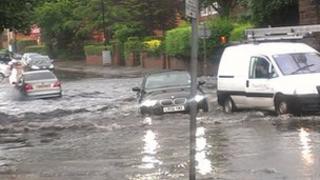 Homes have suffered water damage in flash floods following heavy rain in Manchester.
Fire crews received 36 reports and attended 19 emergencies in the two hours after the downpour started at 15:00 BST.
The floods mainly affected Urmston, Flixton and Partington, firefighters said.
"Crews assisted in pumping out water and where electricity was threatened by water," a spokesman said.
"A small number of homes suffered water damage and there were large levels of water on the roadway."
Salford Police reported several minor road accidents due to surface water.
Kathryn Durrant, 25, of Moorside Road, Urmston, saw water rising on the road and creeping up her driveway before leaving her cellar flooded and her downstairs furniture ruined.
She said: "I'm waiting for someone to come and unblock the drains and in the meantime making arrangements to stay with a relative."