Dale Cregan and Anthony Wilkinson two of 'most wanted'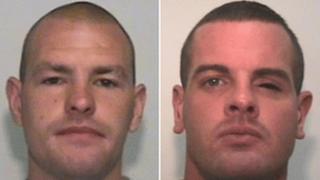 Fugitives on the run after a grenade murder in Manchester are now two of the most wanted men in England, police have confirmed.
Extra officers have been drafted in to make up a team of hundreds searching for Dale Cregan and Anthony Wilkinson.
The men have been missing since the attacks in Droylsden and Clayton, in which one man died, three weeks ago.
Police offered a reward of £50,000 for information after facing a wall of silence due to a "fear of retribution".
David Short, 46, was found dead at a house in Folkestone Road East, Clayton, after a blast on 10 August.
A second home was targeted in Luke Road, Droylsden, minutes later, but no-one was injured.
'Life-changing' money
Mr Cregan, 29, from Droylsden, is also wanted in connection with the death of Mr Short's son Mark, who was shot at the Cotton Tree pub, in Droylsden, on 25 May.
The reward offered by Greater Manchester Police is unusual in that it is for information leading to the finding and arrest of Mr Cregan and Mr Wilkinson, 33, from Beswick, rather than their conviction.
Ch Supt Nick Adderley, who is leading the search operation, said: "We think one of the reasons we are not getting the information from the community we want is that people fear the retribution that may be brought against them by Cregan and Wilkinson, and what we want to demonstrate is that we are prepared to pay a life-changing amount of money to ensure we get the information.
"The point is also that we will help people to protect themselves, it's not just about the money."
The operation is costing the force £150,000 a day and has seen several raids on homes and businesses in the area, as well as armed police patrolling the streets.
One man has been charged with murder and four others arrested and released on police bail.
'Return to normal'
Information aimed at dispelling "myths and rumours" circulating in the community is being distributed by police.
Councillor Kieran Quinn, leader of Tameside Council, said the reason no-one had come forward with information is that they do not have any.
"I know the Droylsden community and we are a law-abiding area and had any information been available that would help the police they would have given it," he said.
Mr Quinn called for armed police to be replaced by the regular "beat bobbies" and for activities to return to normal in the area.