Greater Manchester Police officers charged over protest arrest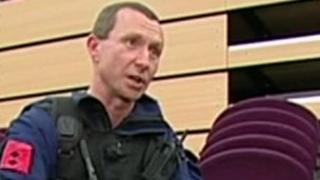 Two Greater Manchester Police officers have been charged with perverting the course of justice over the case of a man arrested at a protest march.
The man was charged with a public order offence after his arrest at the English Defence League and Unite Against Fascism march in Bolton in March 2010.
The case was later dropped after video evidence emerged.
The footage allegedly contradicts accounts given by Insp Robert Cantrell, 39, and PC Alan Glover, 31.
An Independent Police Complaints Commission (IPCC) spokesman said: "The charge is in relation to an allegation that on the basis of false accounts given by the officers a man was charged with a public order offence.
"The Crown Prosecution Service decided subsequently not to proceed with the case against the man when video evidence emerged which did not appear to support the officers' accounts.
"Following this Greater Manchester Police referred the matter to the IPCC, which managed an investigation by Greater Manchester Police's Professional Standards Branch into the incident."
The officers are due to appear at York Magistrates' Court on 11 September.