Manchester City screen images of grenade murder suspects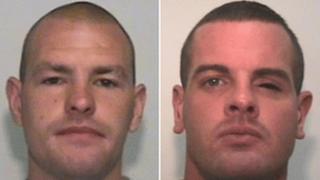 Two men wanted in connection with a grenade murder have had their faces beamed on to big screens at Manchester City's stadium.
Police said Dale Cregan and Anthony Wilkinson were two of the most wanted men in England and "every line of inquiry" was being used to catch them.
Their faces were shown on pitch side and concourse screens at the Etihad Stadium, ahead of the match with QPR.
A van with the pair on was also driven round the ground before the game.
Assistant Chief Constable Steve Heywood said the images were screened because "in amongst the crowd [there] could be someone who has vital information".
The pair are wanted in connection with the murder of David Short in a grenade attack in Clayton on 10 August.
The murder took place within two miles of the Premier League champions' home ground.
Mr Heywood said that Friday "marked the three week anniversary since David Short was killed and we are continuing to pursue every possible line of inquiry to find and arrest Dale Cregan and Anthony Wilkinson".
"Thousands of people will be attending Manchester City's game and in amongst that crowd could be someone who has vital information about their whereabouts," he said.
Greater Manchester Police have offered a reward of £50,000 to anyone who supplies information that leads to the pair's capture.