Horwich flats evacuated after terror raid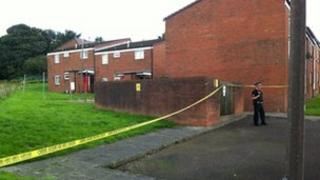 About six flats were evacuated after counter terrorism police found "suspicious substances" during searches of two houses in Horwich, Bolton.
Police had been searching the houses as part of an investigation into indecent images in Bolton.
They also found the substances and cordoned the area while emergency services dealt with the scene.
The substances were later found to be no risk and residents were allowed to return. One man was arrested.
The raids, carried out at 10:00 BST, were supported by officers from the North West Counter Terrorism Unit.
Officers said they found the suspicious substances in the property on Cheriton Gardens, and the flats were evacuated as a precaution, with residents and motorists advised by police to avoid the area.
The man, 38, was arrested on suspicion of offences under the Terrorism Act 2000, specifically possessing information likely to be useful for a person committing or preparing for acts of terrorism and offences under the Explosives Act.
He was also arrested on suspicion of possession of indecent images. He remains in police custody.
Superintendent Steve Nibloe said: "In terms of the arrest I want to stress that there is absolutely no evidence to suggest that anyone in the community, or surrounding areas, are at immediate risk as a result of this investigation which centres on one individual only."
He later added: "There is nothing at this point to indicate that this man has any extremist allegiances or has acted with any other parties."
Residents had been asked to leave the immediate area so that they were a safe distance from the property, but by about 14:00 BST police said they would be allowed to return shortly.