Bolton's £48m bus station plans move a step closer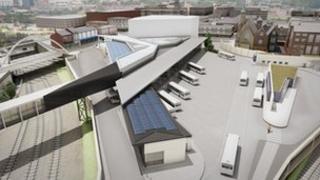 Plans for a £48m transport interchange in Bolton are a step closer after the government gave the council power to buy the land needed to build it.
Following an earlier public inquiry, the secretary of state for communities and local government gave approval for a compulsory purchase order (CPO).
The council can now complete negotiations with local landowners.
Full planning permission has already been given for a new bus station to be built next to Bolton railway station.
The project features an enclosed pedestrian footbridge linking the bus and rail facilities, two lifts and a cycle centre with secure parking.
Bolton Council leader Cliff Morris said the scheme "supports our regeneration proposals for this area".
He added: "We will still strive to complete negotiations without using (the CPO) whilst continuing to support and assist the affected businesses where possible to relocate elsewhere within the town centre."
The work, funded by Greater Manchester Transport Fund, is expected to be completed by 2015.