Anti-tank mines stolen from train in Warrington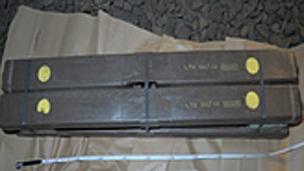 Detectives are searching for anti-tank mines stolen from a freight train after it pulled into Warrington.
Ten packages of munitions, each containing four weapons cases, were on the train when it left Longtown, Cumbria, at 11:30 BST on Wednesday.
They were found to be missing when the train arrived at Didcot, Oxfordshire.
Seven were found near a railway line near Folley Lane, Warrington, but three packages are still missing, North-West Counter Terrorism Unit (NWCT) said.
The Ministry of Defence-owned munitions were taken off the train when it was temporarily stationary in Warrington, police said.
They are appealing for anyone who has seen the packages to get in touch.
The mines are described as being rectangular plastic tubes, approximately 4ft (1.2m) in length.
Greater Manchester Police's NWCT is investigating, along with the Metropolitan Police Service, British Transport Police and Ministry of Defence.
Assistant Chief Constable Terry Sweeney, of the NWCT, said: "At this stage there is nothing to suggest the theft is terrorist-related, but due to the potential complexity of the investigation, our inquiries are being led by counter-terrorism officers.
"I want to make it clear that, in their normal condition, these munitions are stable and do not pose a risk to the public.
"However, the materials could be hazardous if they were to be tampered with and we therefore ask that anyone who sees them or knows where they are to call the police as soon as possible."
Related Internet Links
The BBC is not responsible for the content of external sites.