Thousands run the first Preston Guild Marathon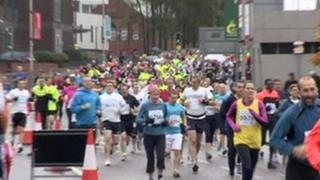 Thousands of runners braved the rain to take part in the first Preston Guild Marathon.
The event was part of celebrations held every 20 years since the town was granted Guild Merchant - or market town - status in 1179.
Organiser Phil Walsh said it was a unique event which would not take place again until possibly the next Guild celebrations in 20 years' time.
It attracted about 4,500 athletes from around the country, he added.
Many were raising money for charities.
Mr Walsh, head of the Guild community programme, said: "We're very pleased with the numbers, we wanted people to rise to the challenge and they have done that."
The full, half and mini marathons began at the Flag Market and the route took runners as far as the village of Treales.
Events to celebrate the Guild started in August and have featured a procession and a concert in Avenham Park featuring Spanish tenor Jose Carreras and Welsh mezzo soprano Katherine Jenkins.