Tuition fees: Greater Manchester universities lose millions of pounds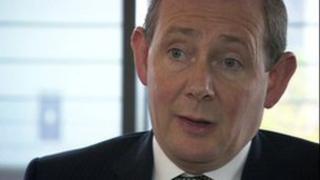 Greater Manchester universities have lost hundreds of students and subsequently millions of pounds since tuition fees were increased.
Salford University said revenue was down by £4m, with 440 fewer students.
The University of Bolton said it would have to make up to 80 staff redundant because 150 fewer students this year had resulted in a loss of £1m.
The universities minister said he recognised the total number of students was "rather lower" than forecast.
Manchester Metropolitan University and the University of Manchester's student numbers are each about 500 down, to 34,000 and 40,000 respectively.
The University of Manchester has even mothballed the Little Court hall of residence in Fallowfield.
'Missing students'
Prof Martin Hall, Vice Chancellor at the University of Salford, where numbers have fallen by 3% this year, said higher education faced its "biggest challenge in 50 years".
He said: "Finding £4m in the middle of a year is a difficult thing to do; so it is a big challenge.
"We now know across Britain as a whole there are up to about 60,000 students short across the sector.
"It's not just us with our 440 places; there are 60,000 students simply gone missing."
Dr George Holmes, Vice Chancellor of the University of Bolton, said it had done well enrolling younger students.
But he added: "One of the most worrying things this year for universities is that mature students appear to have been put off more than 18 year olds.
"In terms of the mature student market, that has dropped off by as much as 50%."
The university currently has 14,000 students.
There has been an extra problem for universities which rely heavily on recruiting students with AAB grades or higher at A-level.
The University of Manchester thought it could attract 3,883 of these, but this year not as many students got those high grades.
Often universities cannot top up with lower-grade students because there are quotas enforced.
Universities Minister David Willetts said he recognised student numbers were down but pledged to work hard to encourage students to apply next year.
However, he said some institutions had seen an increase in student numbers.
Mr Willetts said: "Universities are in a more competitive market and that means some will lose students and others will gain students.
"That will arise not because of a decision by government in Whitehall but because of choices by individual students about where they wish to apply."