Trafford General A&E closure vigil to be held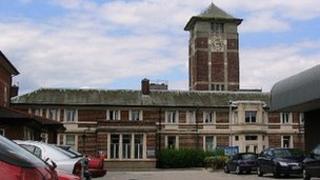 Campaigners fighting to save services at Trafford General Hospital will hold a candle-lit vigil later.
NHS Trafford is proposing to close its accident and emergency (A&E) department, claiming low patient numbers and fears for clinical safety.
The vigil and torch-lit procession have been organised by campaign group Save Trafford General.
It coincides with the end of a three-month consultation on the future of the hospital.
Under the NHS plans the A&E unit - which is the smallest in England - would close overnight and patients would instead go to Salford Royal, Manchester Royal Infirmary or Wythenshawe hospitals.
NHS birthplace
During the day it would be replaced by an urgent care centre, which would be downgraded to a nursing service for minor illnesses and injuries within three years.
Save Trafford General, which has presented a petition signed by 12,500 people to Downing Street, fear the changes would put lives at risk.
Members are due to set off from Golden Hill Park in Urmston at 17:30 GMT, led by marchers carrying two flaming torches.
Protesters carrying torches and lanterns will walk the 10 minutes to Trafford General where candles will be lit and live music played from 18:00 to 19:00.
Campaign co-ordinator Jo Harding said: "We have real concerns that once our accident and emergency goes, it could possibly spell the end of our hospital.
"We have lost maternity, we don't want to lose any more. The people of Trafford deserve an A&E at their local hospital."
Trafford General is known as the birthplace of the NHS, as it treated the first ever NHS patient when the health service was inaugurated in 1948.