Greater Manchester PCC: Cuts are reckless says candidate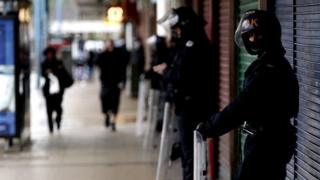 Government spending cuts for Greater Manchester Police are "reckless", the Labour candidate for the police and crime commissioner post has said.
Tony Lloyd told a BBC Radio Manchester debate the force could survive a 12% budget cut, but not the 20% it faces.
Conservative Michael Winstanley said he would fight for a better deal in the next police financial settlement.
The force has had its budget reduced by 20% for the five-year period between 2010-15 by central government.
Mr Lloyd said the former Chief Inspector of Constabulary Dennis O'Connor, who retired in July, said GMP and other forces could have their budgets reduced by 12% over the life of the current Parliament without losing efficiency.
"What this government has proposed is 20% over a quicker time scale and frankly that is reckless because it goes way beyond what the experts said could be done," he said.
Mr Lloyd pledged to continue fighting the next round of cuts, adding: "If we lie down before these cuts now, what will happen in the next round is that the government will cut Greater Manchester by more than other areas."
But Mr Winstanley said: "Everyone has got to take their fair share of cuts."
He added that he would also call for a "fair share for Greater Manchester" in the next police settlement.
'Time wasters'
Mr Winstanley echoed a call from Mr Lloyd that too much police time is wasted by having officers attending court hearings unnecessarily.
"I will talk to frontline officers to see how we can make efficiency savings and see what are the barriers to doing their job efficiently," added Mr Winstanley.
Steven Woolfe, of UKIP, said after talking to PCSOs (Police Community Support Officers) £5,000 could be saved each year per officer if they became full-time police officers.
"I have been told by PCSOs their salary is £25,000 a year whereas a newly qualified police officer's is £20,000 for three years.
"We can make savings of nearly £3.9m if we convert the PCSOs into police officers for three years," he said.
Apprentice scheme
"That is just one example of officers showing me the savings we can make - it's an idea from the ground up," he added.
Liberal Democrat candidate and retired police officer Matt Gallagher said converting the PCSOs was a non-starter.
"They haven't got the training and they would be on low pay for first three years but they are on an incremental pay scale up to 12 years so they would cost a lot more," he said.
Mr Gallagher suggested instead that having apprentice police officers would be a cheaper training option which would also put more officers on the streets.
He said when a recruit joins the police it is 43 weeks until they can go on the beat.
"The bulk of that training can be done in apprenticeship scheme. It also means they are not being paid as police officers and not tied up in classrooms," Mr Gallagher explained."
Independent candidate Roy Warren was unwell and unable to attend the debate, but in his election statement said: "I understand the need for cuts and the fact that we have to do more for less.
"I will emphasise the need to protect the sharp end of policing. i.e. protecting the public."