Salford Chat Moss peat extraction plans blocked by government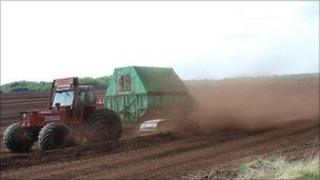 Peat will no longer be extracted from 10,000-year-old moss land in Salford following a government ruling.
An application by William Sinclair Horticulture Ltd to continue extraction for another 15 years was refused by Salford City Council in 2011.
It followed concerns about the environment and conservation of the 90-hectare Chat Moss (220 acres) site.
The Secretary of State for Communities and Local Government has turned down the firm's appeal against the decision.
The ruling follows a public inquiry held in March.
'Unnecessary vandalism'
It concludes: "The government's view that the use of peat in horticulture is unsustainable and it has also to be set against the consequences of peat extraction on climate change and biodiversity."
There were nearly 600 objections to the work from environmental groups, who argued it would release huge amounts of carbon dioxide into the atmosphere.
The council said it is working to restore the rare habitat and Lancashire Wildlife Trust has bought part of the land to turn into a nature reserve.
Anne Selby, the trust's chief executive, said: "This government is now leading the way in Europe against the environmentally damaging and unnecessary practice of peat extraction."
Helen Rimmer, of Friends of the Earth, said: "It beggars belief that in 2012 companies still want to destroy British peat bogs. These are important wildlife sites that 'lock in' carbon and reduce flood risk.
"There are plenty of peat-free alternatives - digging up bogs for our gardens is unnecessary vandalism and must be stopped."
William Sinclair Horticulture Ltd has not yet commented on the ruling.