Greater Manchester A&E unit campaigners meet in Wigan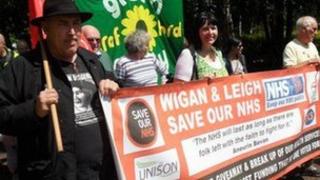 Campaigners for Greater Manchester accident and emergency units allegedly under threat of closure have held a support rally at Wigan Town Hall.
NHS Greater Manchester is currently reviewing the area's health care under the Healthier Together programme.
A Healthier Together spokesman said "no closure decisions" had been made.
Greater Manchester Association of Trades Union Councils (GMATUC) said Wigan, Bolton, Trafford, Tameside and North Manchester units were at risk.
The meeting at Wigan Town Hall was organised by the Wigan branch of the Trades Union Council and supported by Wigan & Leigh Save Our NHS group.
Stephen Hall, GMATUC president, has launched an e-petition against any potential Accident and Emergency (A&E) unit closures.
'No weak spots'
He said closures would increase the chances of fatalities due to the additional travelling time of ambulances.
"The best way to fight the threat to all Greater Manchester's A&E units is to unite together across Greater Manchester to demand no closures of any of the conurbation's existing A&E units," said Mr Hall.
"If we are unsuccessful in that fight, then it is inevitable that the axe will fall where there is the least resistance. Our aim is to help make sure there are no weak spots."
A Healthier Together spokeswoman said the campaign was premature.
She said: "Absolutely no decisions on downgrading or closing A&E units have been made. The public consultation doesn't start until Spring 2013.
"There are no plans in place at the moment and we will be involving the public with any changes that do take place."