Labour's Tony Lloyd wins first Greater Manchester PCC election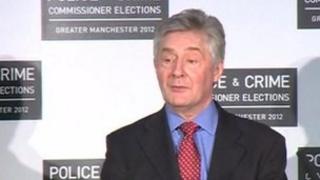 Former Manchester Central MP Tony Lloyd has been elected as Greater Manchester's first police and crime commissioner (PCC).
Labour's Mr Lloyd beat four other candidates to win 51.2% of first preference votes.
The ballot saw 13.6% of the Greater Manchester electorate cast a vote.
The PCC will be responsible for setting priorities for Greater Manchester Police and hiring its chief constable.
Mr Lloyd won 139,437 of the 272,153 total votes, with second-placed Conservative candidate Michael Winstanley receiving 42,478 votes.
The result of the ballot was announced by returning officer Sir Howard Bernstein at the Manchester Central conference centre.
Across Greater Manchester, about two million residents were given the opportunity to vote for the new PCC.
'Spectacular incompetence'
In his victory speech, Mr Lloyd said that while he wanted to "thank all the people in Manchester who took part in the election", the low turnout for the ballot had been "an affront to the proper function of our democracy".
"It doesn't take away the mandate of the PCC, because that is earned not only in an election [but] by working with the public on every day between now and the end of this term of office, but it is something that we need to look at," he said.
He said the process of introducing PCCs had been one of "spectacular incompetence" which had not been explained properly to the public.
The government is bringing in the commissioner role - for 41 out of the 43 forces in England and Wales - in what it describes as an effort to make the police more accountable, with a single "figurehead" monitoring performance.
Mr Lloyd added that in response to questions he had been asked about his independence in the role, he would "serve, without fear or favour, every man, woman and child from whatever background over the years that I hold this office".
In his role as PCC, Mr Lloyd will replace the Greater Manchester Police Authority and be responsible for appointing the chief constable of the region's force, setting local policing priorities, reporting annually on progress, and setting out the force budget and community safety grants.
Greater Manchester Police serves more than 2.5 million people over an area of 500 square miles.