Charity honours Jamie Heaton killed in Shaw blast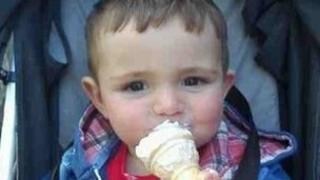 The parents of a toddler who died in a gas blast that destroyed eight houses in Greater Manchester have set up a charity in his name as they try to make "something good out of something so bad".
Michelle and Kenny Heaton set up the Jamie's Something Special Memorial Fund four months on from the explosion that claimed the life of their two-year-old son Jamie.
The youngster was watching television in the living room of their home on Buckley Street, Shaw, when the blast happened.
Fundraising events are being planned throughout the close-knit community to raise £50,000 to improve the local park - Bullcote Park, Heyside - where Jamie took his first steps, in tribute to the youngster.
Mr Heaton said: "It's a way for Jamie to go on. We want other people to remember him too and it's somewhere people can go to think of him."
Support was 'overwhelming'
The family have already planted a tree and daffodils in memory of Jamie there, getting the toddler's friends involved.
Mrs Heaton said: "Jamie loved the park but the older children had nothing to do there - we want a whole family to be able to go there so we want to install play equipment for older kids.
"Jamie would have loved it - he was special and the park is going to be something special too."
After the explosion the community pulled together to support the couple, who had not only lost their youngest son but all of their possessions - as well as their house.
"We had nothing - people raised money for us and at the time we were that stunned we couldn't see it clearly," Mrs Heaton said.
"But now I look back and think the whole community just pulled together. It was overwhelming at the time but it makes more sense now."
As the couple try to come to terms with the devastating events, they are packing up and moving again, from their temporary house to a home where they hope to settle.
'Brought us closer'
Mrs Heaton said: "At the time everything we had lost seemed insignificant. Now our priorities have changed - it's about being happy and the other two children being happy.
"The little things that used to bother us don't now. We are stronger as a couple. I can think more about happy memories than what happened the day he died now - otherwise it would just eat you up."
Mr Heaton added: "We could have gone one way or the other - we still have ups and downs, I'll get angry or Michelle will, but it's brought us closer."
They say the charity is helping them look to the future, despite the ongoing criminal proceedings against former neighbour Andrew Partington, who is charged with manslaughter and causing criminal damage put at £1.2m to homes.
Jamie had been diagnosed as autistic days before he died, and once the park improvements are made the Heatons want to use the charity to raise awareness of autism and other disabilities, and help affected families.
"We needed to make something good because what happened was so bad," Mrs Heaton said. "It's nice to see people so excited, all our family, everyone's happy about the charity, we've all got something to work towards.
In the wake of the tragedy, the family received hundreds of condolence cards from around the world.
Mr Heaton said: "It's affected so many people in so many ways. People that knew him and people that didn't, even strangers.
"We've had hundreds of cards - lots of people just wrote on the envelope 'to Jamie Heaton's parents', and they got to us.
"We even had a cherry tree sent to us from abroad, which we planted in the garden.
"We can't go and thank all those people, so the park is a nice way for us to do that."