Oldham schools 'may have to pay for lollipop patrols'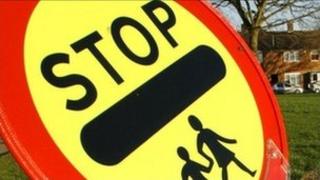 Schools in Oldham may have to start paying for their crossing patrols if the council decides to cut the service to save money.
A consultation is under way on the future of the service, which Oldham Council said costs £187,000 per year.
The council has written to all schools in the borough outlining three options - to buy the service from the council, arrange their own patrol or go without.
A final decision is due to be made at a full council meeting on 12 December.
Parental 'responsibility'
The council needs to cut £31m from its budget over next two financial years, in addition to the £100m it has had to save over the last four years.
It employs about 40 lollipop men and women, who earn just under £5,000 a year.
A spokesman said: "We don't have a legal duty to provide school crossing patrols - it's the responsibility of parents to ensure their children arrive safely at school.
"All local authorities are being asked to make some very difficult financial decisions and therefore we are considering ceasing to fund the service next year, to make the savings of £187,000 per year".
Jeremy Sutcliffe, Chair of Governors at Burnley Brow Community School in Chadderton, believes schools should take the service on.
'Need guidance'
"This is a particularly busy road, it's one of the major routes from Manchester, from the centre of Chadderton to the motorway," he said.
"I don't think you can really rely on children who are unaccompanied to use the crossing safely. They need guidance."
He said the school governors will discuss the plan to take on the crossing patrol management, in the next two weeks.
"I think we've got to recognise that the council is under unprecedented pressure to cut £31m from its budget," Mr Sutcliffe continued.
"So yes, it's the ending of a tradition but I don't think it is something that is being passed across unreasonably.
"I think all schools should take responsibility on and I think all schools can afford it.