Gritting lorry crashes into house in Rochdale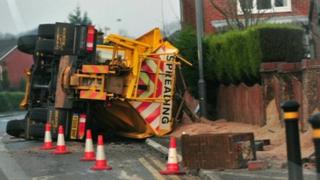 A gritting lorry smashed into a house and overturned, trapping the driver inside the vehicle.
The crash, on Broad Lane, Rochdale, at 06:10 GMT, left a garden wall destroyed and cracks in the walls of the house.
The driver, in his early 20s, was rescued by firefighters who got to him through the cab roof of the lorry which was left crumpled on its side.
He was given first aid for an injured arm before being taken to hospital. No-one inside the house was hurt.
Watch manager Thomas Hague said: "The people inside the house were asleep at the time and reported hearing a loud bang."