Nurse saw 'no problem' with Oldham boy's circumcision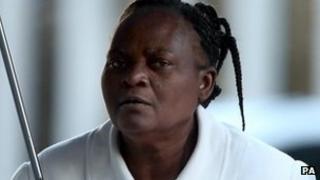 A nurse accused of causing a baby's death by botching his circumcision has told Manchester Crown Court there was "no problem" when she left him.
Grace Adeleye, 67, carried out the procedure on four-week-old Goodluck Caubergs at an address in Chadderton, Oldham, in April 2010.
The boy bled to death before he could reach hospital the following day.
Mrs Adeleye, who denies manslaughter, told the jury she had done "more than a thousand" operations without incident.
The nurse, of Sarnia Court, Salford, said she had discussed the procedure with Goodluck's parents before she began.
She said his father had asked for the traditional "clamp and cut" circumcision used by Christians in Nigeria, where both Goodluck's parents and Mrs Adeleye are originally from, which is performed without anaesthetic.
She said she had performed hundreds of operations in Nigeria using the method and about 20 more since arriving in the UK in 2004.
'Dining and wining'
Asked about her interaction with Goodluck's parents, Mrs Adeleye said she had not wanted to use "big medical words" and had used the father's Nigerian dialect to explain the procedure.
She told the court that she had stressed the boy must be monitored for bleeding from the wound.
She said she then carried out the circumcision, clamping the excess skin for a minute before taking a "few seconds" to trim the foreskin with surgical scissors.
She explained that she had stayed at the house for an hour after carrying out the circumcision to monitor any bleeding before leaving and there had been "no problem".
She said Goodluck's parents had thanked her and had been about to cook a meal before she left, adding that they would hardly have been "dining and wining" if there had been complications with their son's operation.
The trial continues.