Novel created from tweets raises money for charity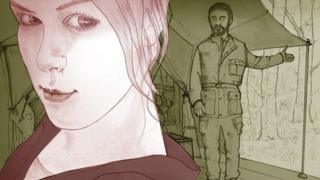 When most people want to raise money for charity, they will attempt almost anything from climbing a mountain to baking some cakes.
But when Dave Kirkwood discovered his friend's daughter had been diagnosed with cancer, he came up with an original idea that has been embraced by hundreds of Twitter users.
Among them are Stephen Fry, Clare Balding, Jonathan Ross and author Irvine Welsh.
His idea was to create a graphic novel by drawing one picture each day for a year.
Through his project 3hundredand65, Prestwich-based Mr Kirkwood is creating an interactive novel where each image is based on a tweet.
People who want to participate book a slot in the project's diary, and get ready to add their voice to the story on that particular day.
It is due to finish on New Year's Eve, with the results set to be published as a graphic novel next summer to raise money for the Teenage Cancer Trust.
Booked in for the final furlong are author and columnist Caitlin Moran, former television presenter Gail Porter, comedian Dara O'Brien and actor Simon Pegg.
But slots for Christmas Day and New Year's Eve are yet to be filled.
Mr Kirkwood said rather than create a one-off piece of work, he wanted to take on a project which would reflect the longevity of suffering felt by people with cancer.
"It was a very selfish thing, I thought I'll learn to draw and I'll do some good. That's it.
"I went home and I phoned a couple of mates and they agreed to do a tweet or two, and then I realised the scale of this.
"I mean all I'm doing is drawing, but it is drawing every day and it is thinking every day and it is four or five hours a day, and it gets wearisome.
"And then I talk to somebody with cancer, or who has lost someone through cancer, and seeing these real people telling their own real stories they really are going through it.
"If the money that we raise helps in any way then of course, you have to do something to help your fellow man, it is the reason for doing the project.
"There are 290 people who aren't celebrities who have written fantastic tweets. The project couldn't have happened without them."
The project has already raised £11,500 for the charity through donations - and Mr Kirkwood hopes to raise more for cancer charities from the sale of the books.
He said the book will be split into three sections - the first being the collection of images made from the tweets; the second will be a brand new graphic novel, completely new but based on the tweets.
"The third section will be about the ups and downs of a year on Twitter and what we have learned about putting the project together," he said.
Money will also be raised through an auction where some of the artwork created over the year will be sold.
Mr Kirkwood said every penny of profit will be going to charities supporting teenagers with cancer.