Metrolink stations 'to boost two Greater Manchester areas'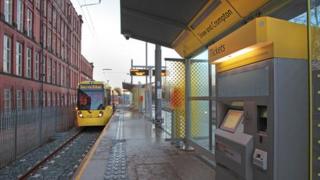 Two areas in Greater Manchester will receive a boost from new Metrolink stations, a councillor has said.
Services to Derker and Shaw & Crompton started running from 07:00 GMT.
Oldham councillor Dave Hibbert said the stations would boost the local economy and allow easier access to and from the city centre.
A new Metrolink stop at Rochdale train station is set to open next year, with extensions into Oldham and Rochdale town centres due in 2014.
Councillor Andrew Fender, who chairs the Transport for Greater Manchester Committee, said: "Today is another historic moment for the Metrolink network."
Mr Hibbert, the member for housing, transport and planning, said the Rochdale to Oldham line was the biggest infrastructure project ever undertaken in the area and would help regeneration plans.
He added: "This is great news and a superb early Christmas present for our borough.
"The opening of the line to Shaw and Crompton, and Derker, is a very important phase of the project and will act as a real boost to people living in these areas - and businesses - in terms of connectivity, giving them quick and convenient access to new jobs, leisure and recreation opportunities."