Moors murderer Ian Brady wrote about Keith Bennett's location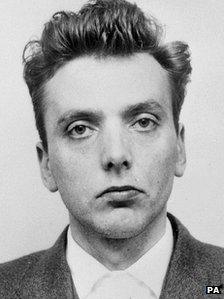 Moors murderer Ian Brady wrote a letter about where he buried victim Keith Bennett, 12, police now believe.
Officers have been investigating whether Brady gave details of Keith's remains to his mental health advocate, after claims she made in August.
Detectives initially found no evidence of a letter but have now found the envelope described by Jackie Powell, which was believed to hold the details.
Keith is the only one of 74-year-old Brady's five victims never to be found.
Ms Powell's claim that Brady had handed her an envelope which contained three letters, including one for Keith Bennett's mother Winnie Johnson, was published in news outlets ahead of her appearance in a Channel 4 documentary.
Following the publication of the claim, Ms Powell, from Carmarthenshire, was arrested on suspicion of preventing a lawful burial and was bailed.
In the subsequent broadcast of the documentary, Ms Powell - who has acted as Brady's mental health advocate since 1999 - described an envelope on which the killer had written "to be opened on the event of my death".
Brady has been on successive hunger strikes since 1999 in an attempt to kill himself, but is sectioned under the Mental Health Act so he is prevented from taking his own life.
A Greater Manchester Police spokesman said that after a search of documents taken from Ms Powell's house, an empty envelope with the wording described had been found, but officers did not know what had been inside.
He said inquiries were continuing into whether any letters were still in existence, but said detectives did not believe any such documents would pinpoint the body's location.
Brady and Myra Hindley murdered five children between 1963 and 1965. Three were known to have been buried on Saddleworth Moor near Manchester. A fourth victim was found at Brady's home.
Mrs Johnson, who died in August, shortly after the police investigation into the claims about the letter began, believed her son was also buried on Saddleworth Moor.
Related Internet Links
The BBC is not responsible for the content of external sites.