Lyme Green recycling centre scrapping prompts disciplinaries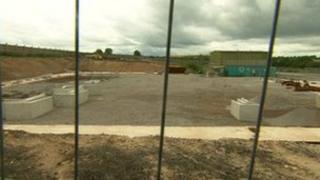 Two council workers will be disciplined over an aborted deal on a recycling centre that cost taxpayers £800,000.
The action against Cheshire East Council workers follows an independent report on the centre at Lyme Green near Macclesfield.
Work on it began nearly a month before a planning application for it was submitted in November.
Councillor Howard Murray said the confidential report contained findings on a number of serious allegations.
He said: "From the start, we have pledged total thoroughness and impartiality in this matter.
"We will continue to do this as the procedure is completed early in the New Year."
Work had started on the recycling centre site on 24 October but a planning application was not submitted until 16 November.
Plans were later shelved by the council.