Arctic convoy veteran 'ecstatic' over government medal promise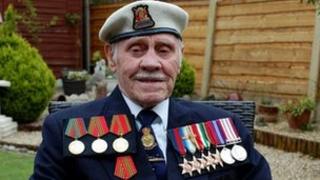 A veteran of the Arctic convoys in World War II said he is "ecstatic" over the government's offer of a medal.
Herbert MacNeil, 86, from Manchester, will now be honoured after a long campaign to recognise the work of an estimated 400 veterans still alive.
Over 3,000 seamen died during Operation Dervish. Winston Churchill called the trip "the worst journey in the world".
Speaking on Wednesday, David Cameron said they were to get the recognition "they so richly deserve".
Between 1941 and 1945, the convoys carried vital supplies and arms to support Russian forces fighting the Nazis.
More than 3,000 sailors lost their lives in the missions, battling sub zero temperatures and U-boat attacks in their bid to break the German naval blockade.
Mr MacNeil, who joined the Royal Navy in 1941, aged 16, said: "I'm ecstatic. It has gone on for such a long time, well over ten years, now at last we have got it.
"We were escorting the merchant ships, protecting them from the enemy.
"If you got ice on the deck, you had a chance of capsizing because of the extra weight."
'Dangerous work'
Previous calls for medals were turned down on grounds of protocol.
During Prime Minister's Questions, David Cameron told MPs he had accepted the recommendations of a review of military medals carried out by former diplomat Sir John Holmes.
He said: "I am very pleased that some of the brave men of the Arctic convoys will get the recognition they so richly deserve for the very dangerous work they did."
Mr MacNeil has been honoured four times by the Russians in 1985, 1995, 2005 and 2010.
Minister of State for Defence Personnel, Welfare and Veterans Mark Francois said they were currently looking at the "implementation" of issuing the awards and a further announcement will be made by the spring.