Rapist Jordan Swales jailed for attack in Salford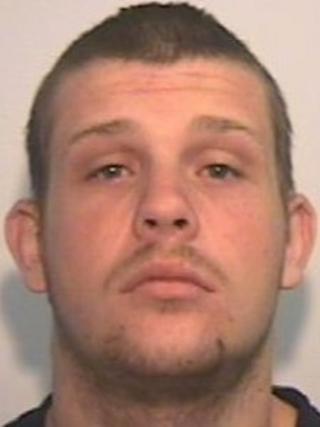 A rapist captured by passers-by after they heard his victim's screams has been jailed for eight years.
Jordan Swales, 21, was found guilty at Manchester Crown Court of what police described as "a violent and terrifying rape" of a teenage girl on 16 August.
Greater Manchester Police said Swales, of no fixed abode, threatened to kill and throttled his 18-year-old victim in the attack.
Police said he could have got away with it had it not been for people nearby.
As well as the jail term, Swales was put on licence for a further six years.
The force said the victim had been at a mutual friend's flat in Eccles, Salford, when Swales offered to walk her home at 22:00 BST.
The pair got the tram before getting off at Langworthy Road.
'Fought throughout ordeal'
Police said as they walked across grassland near to Blodwell Street, Salford, Swales dragged the victim to the ground, pinned her down, threatened to kill her, throttled her and then raped her.
The victim screamed and fought throughout her ordeal and police said her cries for help were heard by a man and woman who were passing nearby.
The woman rang police and then approached Swales and distracted him enough so the victim was able to escape, police said.
Swales ran off and hid in a bush while the male passer-by went to a nearby friend's house to summon help.
He returned with another man and the woman showed them and other members of the public where Swales was hiding.
Police said they approached Swales, who told them he had been the victim of an assault and his girlfriend had been raped.
The men, not believing Swales, detained him and remained with him until police arrived.
'Heinous offence'
Det Con Jon Weir said: "The victim had only met Jordan Swales a couple of times and because he was the friend of a friend she accepted his offer to walk her home, trusting that she would be safe.
"It was just a ploy to get her alone because as soon as they were in an isolated location he pounced on her and subjected her to a violent and terrifying rape.
"His attack was only cut short when passers-by heard her screams for help and came to her aid."
Det Con Weir praised the members of the public for helping to convict Swales.
"Had it not been for their actions the attack could have been prolonged and the offender may have possibly even got away with this heinous offence."