Rio Ferdinand: Not pursuing coin throwing at derby game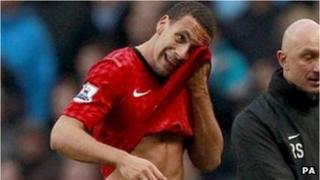 Manchester United's Rio Ferdinand has said he does not want to pursue a conviction after being struck by a coin during a match, police have confirmed.
Ferdinand received a cut above his left eye during his team's derby game at Manchester City on 9 December.
The object was thrown from someone in the crowd at the end of the match at the Etihad Stadium.
Police have said they are still investigating the matter, but have not yet identified the culprit.
Greater Manchester Police said Ferdinand had told them he did not want to pursue a case against whoever threw the coin, although they said he may change his mind in the future.
Ferdinand was left with blood running down his face after the incident, and later tweeted that he was hit by a 2p coin.
On Friday Manchester City fan Matthew Stott, 21, was banned from games for three years after he admitted encroaching the field of play and using insulting words towards Ferdinand in a separate incident.