Tameside archivist finds Australian cousin 'by coincidence'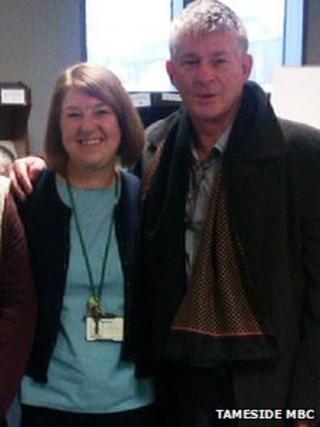 A library archivist who was helping an Australian tourist investigate his family tree has said she was "stunned" when she found out he was her cousin.
David Ward had gone to Central Library in Ashton-under-Lyne, Tameside, while on holiday to look into his history.
Anne Turner, 56, was helping the 51-year-old, who emigrated to Australia in 1990, when she realised who he was.
Mrs Turner said she "thought his face was familiar" when he came in, but had not been able to place him.
The research the pair carried out revealed that Mr Ward's grandmother was the sister of Mrs Turner's mother, making them second cousins.
Mrs Turner, who said she had babysat Mr Ward and his siblings while she was a teenager, said it had been a "particularly special discovery".
"I thought his face had seemed familiar but it wasn't until we started the search and he started running through family names that I realised the link," she said.
"He continued to reel off names and I didn't like to interrupt at first, but I was bursting to tell him who I was.
"When I eventually told him my name, he immediately recognised me - neither of us could believe the coincidence."
She added that helping people research their history "brings up all sorts of surprises and we love to see the delight from visitors who find out something new about their family, but for once, this was a particularly special discovery for me".