Bank robber Declan Lloyd tricked grandmother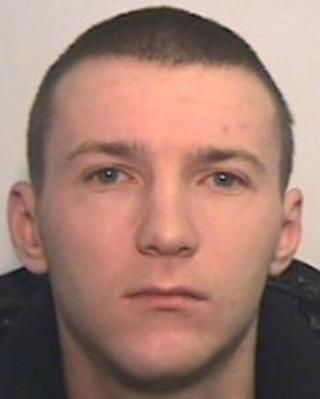 A robber who got his unsuspecting grandmother to take him back to his getaway vehicle to collect a stolen cash box has been jailed.
Declan Lloyd, 21, from Salford, stole a cash box being delivered by a security guard to Barclays bank on Liverpool Road, Peel Green, on 24 April.
Lloyd abandoned his getaway vehicle but got a lift back to the car by his grandmother to retrieve the cash.
He was sentenced at Manchester Crown Court to four years for robbery.
Police said Lloyd, of South Radford Street, approached the security guard from behind and grabbed the cash box containing "a substantial amount of money" and then made off in a stolen Peugeot 207.
He abandoned it in the Parklands, Radcliffe, before fleeing.
'Dim-wittedness'
The car was located by Greater Manchester Police officers who were in wait of him when he returned to the scene half an hour later after getting a lift from his grandmother.
Police watched him take the cash box out of the Peugeot and put it into her car and then arrested the pair.
Det Con Justin Bryant said: "Due to officers' endeavours, and partly thanks to Lloyd's dim-wittedness in returning to the scene so quickly, we were able to identify the offender, locate the getaway car and recover the stolen cash in about 30 minutes.
"Lloyd did not think twice about targeting the security guard and even roped his unsuspecting grandmother in to try and get away with this crime but thanks to the efforts of all involved he is now starting a four-year prison sentence," he added.
No action was taken against his grandmother.