One in five in Greater Manchester in extreme poverty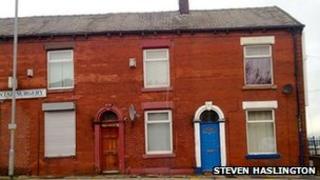 Special measures are needed for more than 600,000 Greater Manchester residents - more than one in five - living in extreme poverty, says a new report.
The Greater Manchester Poverty Commission (GMPC) report lists 16 recommendations to prevent 1.6m more from sliding into deeper poverty.
They include a £7.45 an hour living wage.
The GMPC chair said most surprising was the part-time workers in poverty.
The Bishop of Manchester, the Right Reverend Nigel McCulloch, said extra help should be given to those in need or those on the verge of poverty.
He said: "A society that forgets its poor is a poor society.
"If we are not careful another 1.6m will slide into that and not be able to manage.
'Vicious spiral'
"The reality is people are unable to keep warm in the winter or are without enough food to eat or have to make a choice between the two."
Six areas were identified in the report as having concentrated areas of severe deprivation. These are:
Central and Falinge, Rochdale
Balderstone, Rochdale
Langworthy, Salford
Central Bolton
Coldhurst, Oldham
Harpurhey, North Manchester.
Bishop McCulloch said those classed in the report as in extreme poverty were those on an income of £12,000 or less, which is 60% of Greater Manchester's median income of £26,000.
"One of the things that quite surprised us is the number of people we met who were experiencing really quite serious poverty but are also in part-time work," said Bishop McCulloch.
"Because they are earning they unable to get benefits they otherwise might have and it becomes a vicious spiral."
David Atkinson a team manager at Salford Central Foodbank in Broughton, said demand had "snowballed" since opening in November.
"We had an uptake of 50 families in our first month and in December we served well over 100 families," he said.
"People are coming here who can't even remember the last time they last ate a proper meal.
"Many who come are working but find they are unable to make ends meet with increases in the cost of living while they haven't had any increases in their salaries or they have fallen foul of benefit changes."
Mr Atkinson added: "Many families are choosing between heating, feeding their children and feeding themselves. They are choosing to feed their children and going hungry."
'Doom-mongers'
He said the foodbank was meant to serve central Salford but it had taken calls from all over Manchester.
"There is a real gap in provision."
The leader of Manchester City Council, Richard Leese, agreed Greater Manchester was an "area of extreme poverty" and said the impact of budget cuts, which particularly affected working families, was "pushing us back in the wrong direction".
He welcomed the introduction of a living wage.
He said: "When the minimum wage was introduced lots of doom-mongers said it was going to cost thousands of jobs; well it didn't.
"The living wage isn't a vast sum of money."
However, chief economist at the Greater Manchester Chamber of Commerce Brian Sloan has reservations about the impact of bringing in the living wage.
"It is inflationary and will impact on a number of key sectors - hospitality and catering, retailing and social care - which are very important sectors of the Manchester economy."
The commission is made up of 10 cross-party MPs and representatives from the voluntary, community and faith sector.