Plans to 'improve first impression' of Oldham approved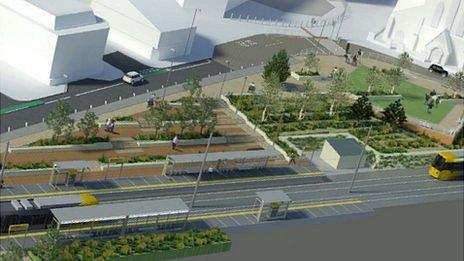 Plans to improve visitors' first impressions of Oldham with "new focal points" around the town's forthcoming tram stops have been approved.
The work, which will cost £2.5m, will see the creation of a "high quality public space" at King Street and improvements to Union Street.
Oldham Council leader Jim McMahon said the work would "go beyond the standard finish you get with a new line".
A Metrolink extension into Oldham town centre is due to open in 2014.
The work will create three new stops in the centre - at King Street, Union Street and Oldham Mumps - and a fourth at Westwood.
A council spokesman said King Street would get "a terraced seating area and a raised plaza" and Union Street would be pedestrianised.
He added that the work on the Oldham Mumps stop would "create a sense of arrival" and include an interchange between bus and tram routes.
Mr McMahon said: "We are looking to deliver something extra.
"These plans will significantly improve a visitor's first impression of Oldham and provide a range of new vistas and views with a more memorable townscape."
Mr McMahon said that approving the funding at the council's cabinet meeting on Tuesday would mean "everything [would] be right from day one".
"By agreeing to fund this work now, we're ensuring it will be completed alongside the ongoing Metrolink construction work," he said.
"It makes complete sense to do this so that everything is completed at the same time with no extension to the timetable or further disruption in the town centre."
The existing Oldham Mumps stop, which opened in June 2012, will be decommissioned once the new line through the town centre is completed.
Related Internet Links
The BBC is not responsible for the content of external sites.