Salford Council set to cut 150 jobs to help save £23m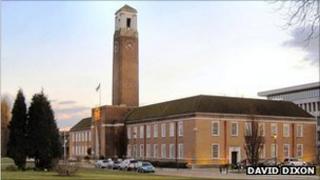 About 150 jobs are to go at Salford City Council as part of plans to save £23m over the next financial year.
Among the services affected will be children's centres, with three set to close.
Barton Moss and Eccles children's centres are being relocated to other sites, in a move the council says will make them more accessible.
Mossfield children's centre is to move to the yet to open Swinton Gateway Centre.
Mayor of Salford Ian Stewart described the cuts "forced on us by the government" as "awful".
He said: "There is no escaping the fact that they will hurt the people of Salford.
"Vital services are being reduced and jobs are being lost when local people are struggling to make ends meet because of the Coalition's austerity measures."
About £1.3m will be cut through job losses within departments including HR, Finance, ICT and Administration.
Since the Coalition Government came to power, the council has cut £100m and more than 1,200 jobs.
Mr Stewart added: "Some services are disappearing entirely, while we are being forced to commission other services from outside providers.
"It is an unparalleled attack on public services."