Oxford University college sued by cash row student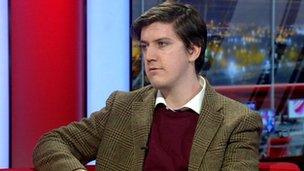 A Salford graduate is taking an Oxford University college to court alleging he was refused a place on financial grounds.
Damien Shannon claims St Hugh's College is discriminating against poorer students by asking them to prove they can cover "excessive" living costs.
Mr Shannon, 26, said the £12,900 total was "not obtainable" for most people.
St Hugh's said the requirement that prospective students provide a financial guarantee is "made clear".
Mr Shannon took out a loan to cover his tuition fees for an MSc, but admitted he could not prove he had access to a further £12,900 towards living costs.
He said his place on the year-long economic and social history course was withdrawn due to the "arbitrary figure" the college had set.
Mr Shannon said: "The figure they have come up with seems to be excessive.
"It shouldn't be up to the university so select an arbitrary figure that determines whether or not you have enough money, they should have a reasonable figure."
He added the college did not take into account projected earnings from students who aim to have a part-time job during their studies.
In a statement, St Hugh's College said: "While we can't comment on the specifics of ongoing legal cases, the requirement that postgraduate students provide a financial guarantee in order to take up their course place at the University of Oxford is made clear to potential applicants.
"The university and college have both made fundraising for postgraduate scholarships a key priority."
"The university has also played a leading role in drawing attention to the need for a postgraduate student loan system that will allow the brightest postgraduates to take up their places regardless of financial circumstances."
A court hearing is scheduled to take place on 15 February.
The Salford and Eccles MP Hazel Blears has written to the university's vice chancellor Prof Andrew Hamilton to abolish what she called an "unfair rule".
She said: "Oxford University's demands for a guarantee on living costs are deeply unfair - they will price gifted students out of doing these courses and our country will lose out on some really talented individuals.
"It is ludicrous that any student deemed to be of sufficient academic merit to attend one of the world's best universities is deemed incapable of budgeting to ensure they have enough money to live on."
The MP secured an adjournment debate on the issue, due to take place in Parliament later.
Oxford University said it required a financial guarantee before the postgraduate begins their studies to ensure their fees and living costs are covered throughout the course.
"We consider this preferable not only for the institution but for the welfare of the individual student, as it prevents drop-outs and disruption part way through a course", a spokesman said.