Homes without water after Manchester water main bursts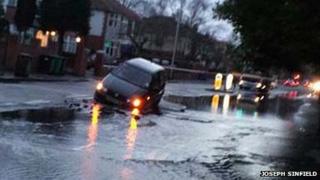 About 6,000 homes in Manchester were left without water after a main burst and caused a road to collapse.
A driver of a VW Polo became stuck in the hole created by the burst main.
Police were called to Alexandra Road South, Whalley Range at 07:15 GMT. An eyewitness reported a 5ft (1.5m) hole opening.
The incident affected water supply to properties in the Fallowfield area. A United Utilities spokesperson said the supply had returned by about 09:30.
It is thought the car became stuck when the driver attempted to drive through the floodwater.
It was winched out of the hole by the fire service. The driver was uninjured.
Officers closed the road near the junction of Brantingham Road. Nearby Manley Road and Waltham Road were also shut.
Stuart Atkinson, regional water network manager for United Utilities, apologised for the disruption caused.
He said: "We understand what a nuisance it is to wake up to no water and our engineers reacted fast to get supplies back on.
"It's very fortunate that no-one was hurt when the car drove into the hole caused by the burst, it shows how dangerous it is to drive through a flood when you don't know what is under the water."