Cheshire East Council announces 1,000 job losses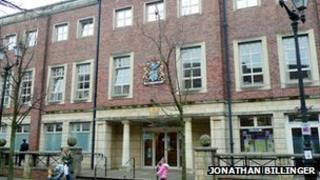 Plans to cut 1,000 jobs, a fifth of the workforce, have been announced by Cheshire East Council.
The authority currently employs 5,500 staff and is proposing to reduce the number by 1,000 over the next three years due to cuts to government grants.
It said it must reduce its £140m annual wage bill but it is hoping to do it "without large-scale redundancies or major cuts to essential services".
Public services union, Unison, said services would be affected.
'Difficult circumstances'
The council said its focus was to "reduce waste, duplication and bureaucracy, as well as cutting management overheads".
The authority said it hoped to avoid large-scale redundancies with new ways of delivering services, transferring staff to new organisations and with natural turnover as people leave or retire.
Conservative council leader Michael Jones, said he was "proud of the quality and creative thinking of our staff".
"They do a fantastic job in difficult circumstances," he said.
"We will do all we can to support our staff through these changes.
"This will include finding suitable alternative work, where necessary, and investing in retraining them to keep their skills up to date."
Unison's Craig Nicholson said: "We are concerned not just about the staffing implications but the effect on services."