Cyril Smith abuse claims: 'Police alerted in 1965'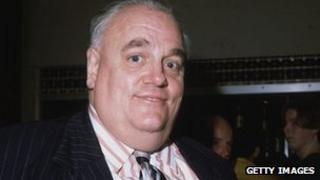 Fears that Sir Cyril Smith was sexually abusing boys were reported to police four years before an investigation was opened, it has been claimed.
Social worker Lyndon Price said he raised the issue with the chief constable of Rochdale in 1965.
Mr Price, director of social services in Rochdale from 1971 to 84, said that Chief Constable Patrick Ross later told him no action would be taken.
Lancashire Police investigated Sir Cyril in 1969 without charging him.
The Crown Prosecution Service (CPS) has admitted that Sir Cyril should have been prosecuted for abusing boys in the 1960s.
Sir Cyril was originally a Labour councillor in Rochdale and later a Liberal then Liberal Democrat MP for the town. He died in 2010 aged 82.
So far 12 men have accused him of abusing them in the 1960s, both at the Cambridge House children's home, a privately-run care home which closed in 1965, and the council-run Knowl View residential school which shut in 1992.
Mr Price said that shortly after arriving in Rochdale in 1965 he was approached by another social worker who had worries about what was happening at Cambridge House, which was run at the time in part by Smith, then a town councillor.
'Surprising reply'
"He was concerned that there were irregularities in the disciplinary practices being undertaken by Councillor Smith - I don't want to enlarge what they were, but they gave me considerable cause for concern because I thought the wellbeing of the young people in the hostel was in jeopardy," said Mr Price.
"I made up my mind within a day or so to contact the chief constable."
Mr Price said he received a "surprising" reply when he contacted Patrick Ross, chief constable of the now defunct Rochdale Borough Police.
"I thought his words at the time were rather unusual: he said, 'It has been decided that we will take no further action' - not 'I have decided'," said Mr Price.
Smith was investigated in 1969 by Lancashire Police, but the Department of Public Prosecutions decided to take no further action.
Mr Ross later became assistant chief constable of Sussex Police. A former member of the Sussex Police Authority, who did not wish to be named, described him as being "straight as a die" and a man who would bluntly have a word in the ear of someone who he thought was in the wrong.
Sir Cyril stood down as the Liberal Democrat for Rochdale in 1992. He had been a Labour councillor in the town in the 1950s and 60s.