Salford Council: Ofsted lifts Improvement Notice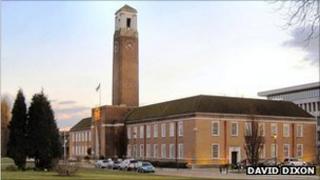 A council ordered by Ofsted to improve its children's services has had its Improvement Notice lifted.
Ofsted issued the notice to Salford Council in 2010 but the agency has decided it is no longer necessary.
Salford Mayor Ian Stewart (Labour) said: "We have made tremendous progress in two years."
Ofsted first investigated Salford Children's Services in 2009 following a Serious Case Review after the 2008 murder of Demi Leigh Mahon, two.
The under Secretary of State for Children and Families, Edward Timpson MP said he was lifting the notice with immediate effect and congratulated the council on the progress made.
'Inadequate services'
In a letter to Mr Stewart the minister said: "It is clear from the recent Ofsted inspection and the review of the improvement notice carried out by my officials that the council has made good progress in addressing the issues raised in Ofsted's 2010 inspection.
"This represents a significant improvement in child protection social work and I want to acknowledge the hard work of council staff and those in partner organisations in bringing this about and the constructive way your officers have engaged with officials."
Assistant Mayor for Children's Services, Councillor John Merry, said: "We have risen to the challenge set two years ago but our ambition is to have an outstanding child protection service."
Ofsted rated children's services as inadequate in 2010 following an inspection.
An unannounced inspection the previous year which followed the Serious Case Review found that assessments of some children were of "poor quality and did not sufficiently consider risk".
The Serious Case Review had criticised Salford Children's Services saying the toddler's killing, by a babysitter on 15 July 2008, was "avoidable".