Three men jailed over McDonald's and Greggs fraud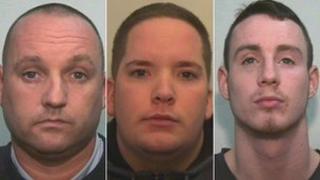 Three men who used the names of Greggs and McDonald's workers to fraudulently buy goods worth £2.7m have been jailed.
Kevin Pomeroy, Daniel Pomeroy and James Chapman pleaded guilty to conspiracy to defraud at Manchester Crown Court.
Police said the trio had set up bogus email addresses using genuine names of staff to obtain credit to buy goods.
Kevin Pomeroy was jailed for eight years and six months, Daniel Pomeroy for three years and six months and Chapman for three years.
Kevin Pomeroy's wife, Julie, 39, pleaded guilty to one charge of money laundering, and was given a 12-month sentence, suspended for two years.
Whiskey and champagne
All four were caught after Greater Manchester Police launched an operation into the use of the corporate identities of fast food retailer McDonald's and bakers Greggs to fraudulently obtain goods.
Posing as McDonald's employees, the gang secured, among other things, 400 TVs from the company Alba and 20,000 bottles of Marks and Spencer champagne.
In 2010 the police issued a warning about the McDonald's scam, but that led the gang to begin using Greggs' name instead.
The name was used to obtain 1,400 coffee machines and whiskey worth almost £200,000.
In all, the gang took delivery of goods worth £2.7m from 13 companies, which a police spokesman said were believed to have been sold.
He said the profits had paid for expensive cars, holidays, jewellery and a large collection of football memorabilia.
Kevin Pomeroy, 47, of Stamford Drive in Failsworth and Chapman, 22, of Sycamore Avenue in Chadderton, admitted two counts of conspiracy to defraud, with Pomeroy also pleading guilty to one of money laundering.
Pomeroy's nephew Daniel, 25, of Brierley Avenue in Failsworth, admitted one count of conspiracy to defraud.