Thefts from Salford and Manchester hospitals investigated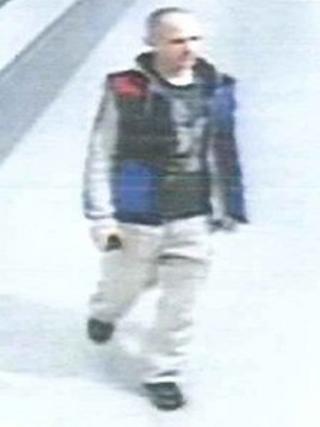 A thief who stole from patients at a Greater Manchester hospital may have struck at another hospital nearby, police said.
A 26-year-old woman had a phone taken while she was away from her bed at Manchester Royal Infirmary on Monday.
Police are linking the incident with thefts at Salford Royal hospital.
CCTV was released of a man seen at Salford Royal on 15 February before a surgery patient's phone and wallet were found to be missing from a drawer.
Police are hoping to trace the man who was captured on camera again on 21 February, the same day that £100 was taken from another patient's drawer on the same ward.
PC Steven Hughes said the thefts were "deplorable and shameless" acts.
He said: "Someone is deliberately targeting members of our community when they are at their most vulnerable and we are determined to bring this person to justice.
"We are working closely with local hospitals and colleagues in neighbouring areas to see if any similar incidents have occurred."
The suspect for all incidents is described as white, in his 20s, of medium build and with balding hair.