George Osborne's office in Greenpeace fracking protest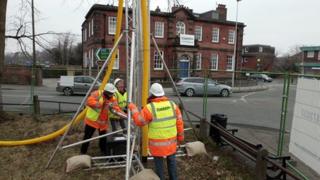 Greenpeace campaigners erected mock drilling rigs on a village green outside George Osborne's constituency office in protest at fracking.
The group climbed on to the first-floor balcony of the Conservative MPs Tatton office in Cheshire, and renamed it the headquarters of "Frack & Go".
They said a new poll found the majority of the chancellor's constituents oppose shale gas extraction.
Tatton has been earmarked as a potential area for drilling.
'Dash for gas'
Cheshire Police were at the scene of the protest, which took place between 08:00 and 14:20 GMT, in Knutsford.
Campaigners said they were concerned fracking will cause noise and disruption, earth tremors and affect house prices.
A sound system was erected to show the level of noise drilling could produce.
Greenpeace energy campaigner Lawrence Carter said: "It seems Osborne is so wedded to his dash for gas that he's willing to ignore the views of his own constituents.
"It's time George Osborne stopped trying to play the JR Ewing of Cheshire and concentrated on investment in clean, safe, renewable technology that will create longer-term jobs and a more stable economy."
More than half of 500 Tatton residents questioned said they opposed fracking in the area, in a poll by ComRes.
The fracking process involves pumping water and chemicals into shale rock at high pressure to extract gas.
Fracking was banned temporarily after it was blamed for two earth tremors in Blackpool in 2011.
A government review has since concluded that fracking is safe if adequately monitored.