Review into Chetham's music school after abuse claims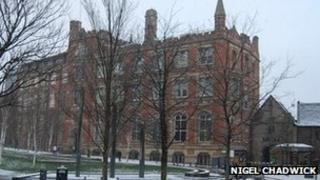 Child protection safeguards are being reviewed at a Manchester music school at the centre of a police probe into historical sexual abuse allegations.
Greater Manchester Police said they are investigating more than 20 allegations of historical abuse by former pupils at Chetham's School of Music.
Manchester City Council officials are spending two days at the school as part of the review.
The school told parents it has robust policies and procedures in place.
In a letter sent to families, headteacher Clare Moreland said: "We have invited Manchester City Council Children's Services into the school to carry out a collaborative review with us of our safeguarding policy and procedures.
Procedures 'rigorous'
"We welcome this visit. It is an opportunity for the school to demonstrate that we have robust policies and procedures in place which are applied routinely and rigorously."
Ms Moreland said an independent review will take place into "past events" at the school once the police investigation is complete.
Former choirmaster Michael Brewer, 68, of Selly Oak, Birmingham, was convicted of abusing pupil Frances Andrade at the school in the 1970s and 1980s.
Mrs Andrade died after giving evidence at the trial Manchester Crown Court in January. She is believed to have killed herself.
Following Brewer's conviction further allegations emerged relating to other former teachers.
Malcolm Layfield resigned from his position as head of strings at the Royal Northern College of Music after allegations that he had relationships with students made his position "untenable".
Claims were also made against a former violin teacher who had already left the school.
Violin teacher Wen Zhou Li, of Cheshire, who teaches at Chetham's School of Music, was arrested earlier in February and released on bail until June pending further inquiries.