Royal Bolton Hospital: Deaths 'wrongly recorded'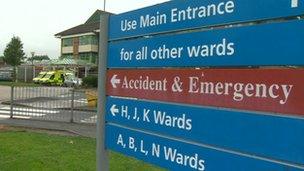 Many deaths at Royal Bolton Hospital may have been wrongly attributed to septicaemia, a report has found.
The Dr Foster report into "coding", the way conditions are classified within the NHS, found over half of 150 cases did not "meet national standards".
A total of 800 septicaemia cases were recorded at the hospital in a year, the report indicates - four times the expected rate for a hospital that size.
Bolton NHS Trust said a further clinical review will now take place.
Septicaemia, a severe infection which enters the bloodstream, is coded in a different way from other illnesses and infections, which means deaths caused by it do not affect hospital mortality figures.
Bolton NHS Trust's acting chief executive Dr Jackie Bene stepped aside after initial findings revealed "potential discrepancies" in data.
The former medical director oversaw recording of deaths at the hospital.
Bolton NHS Foundation Trust said it received information about an initial audit about potential discrepancies in the way the trust coded mortality information in 50 cases between March 2011 and April 2012.
The trust said the Dr Foster independent investigation found that of 150 patient cases - not all fatal - coded as septicaemia, 76 were found not to meet national coding standards.
Dr Wirin Bhatiani, chair of Bolton Clinical Commissioning Group (CCG), said the report found clinical coding of sepsis at the hospital is "of concern".
He said: "This report looked at the quality of the coding process; we now need medical input to understand how and why this happened, and to understand if the coding was clinically appropriate.
"We have no evidence clinical care of patients has been compromised.
"We have jointly agreed with Bolton NHS Foundation Trust the scope of an independent, clinically-led review and the terms of reference with its chair David Wakefield."
A more detailed review has now been ordered by the CCG and is expected to focus more closely on fatal cases.
Bolton NHS Foundation Trust chairman David Wakefield said, "We are pleased that the report raises no concerns about standards of treatment and care.
"We want to ensure that trust's coding validation process meets the highest quality standards and have agreed with the CCG the remit of an independent clinical review."
Dr Foster Intelligence's co-founder and director of research Roger Taylor said: "We welcome the decision by Bolton CCG to more thoroughly investigate the concerns raised by our report.
"Coding data incorrectly can have serious implications on how we assess the quality of care being provided by hospitals."
Related Internet Links
The BBC is not responsible for the content of external sites.