Jodrell Bank Discovery Centre unveils 'world's biggest' orrery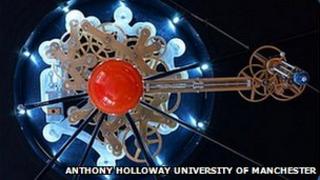 The Jodrell Bank Discovery Centre in Cheshire has unveiled its latest exhibit, a mechanical orrery.
The orrery, a moving model of the solar system, is 16.4ft (5m) in diameter.
It was designed with 52 brass gears so planets orbit around the sun at exactly the right rate in relation to one another.
Director Dr Teresa Anderson believes the installation, which took two years to make, is the largest in the world.
The model, in the gallery of the Planet Pavilion, can be driven by a large winding handle, allowing visitors to orchestrate the motion of the planets themselves.
'Handsome engineering'
It turns against a giant clock face in the gallery's ceiling depicting astronomically accurate constellation maps set out in their relevant positions in the sky.
It was built in Acton in London by the Science Projects team.
Dr Anderson said: "As far as we know, it's the largest orrery in the world.
"It's completely bespoke and unique to Jodrell Bank and gives visitors the opportunity to interact with some of the UK's finest precision engineering and craftsmanship first hand."
Dr Tim O'Brien, associate director of the Jodrell Bank Observatory, said it will appeal to everyone regardless of their level of knowledge of physics.
He added: "It's a handsome piece of engineering."
The Jodrell Bank Discovery Centre is part of the University of Manchester's School of Physics and Astronomy and was named 2012 Cheshire Tourism Attraction of the Year.
Home to the Lovell telescope, which was conceived by the late astronomer and physicist Sir Bernard Lovell, the centre attracts tens of thousands of visitors each year.