Two Greater Manchester men killed in Thailand road accident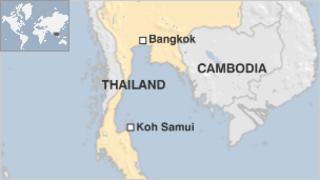 Two men from Greater Manchester have died in a road crash while on holiday in Thailand, the Foreign and Commonwealth Office (FCO) confirmed.
Derek Gent, 69, and Michael Holmes, 68, of Rochdale, were walking on the island of Koh Samui when a crash involving several cars happened on Saturday.
They had been on holiday with their wives, it is understood.
Their children said the men had been friends for over 30 years and their deaths had left a "massive hole".
In a statement they added: "Devoted husbands, fathers and grandfathers, their loss will be felt by our families and their many friends.
'Real loss'
"Our mothers Janet Holmes and Christine Gent have been overwhelmed by the kindness and support they have received."
An FCO spokesman said: "We are providing consular assistance to the families at this sad time."
The FCO said part of the support it provides would be to repatriate the bodies of the men.
The road accident involved several vehicles.
Mr Gent, a retired head of Trading Standards at Oldham Council, was "a very well respected" officer, councillors said.
Councillor John Battye said: "This has come as a shock. He transformed our service from mediocre to one of the best in Manchester."
Councillor Hugh McDonald added: "It's a real loss, he worked for Oldham and did a good job for the town."